PATEK PHILIPPE HAND ENGRAVED PERPETUAL RETROGRADE CALENDAR REF. 5160G-001
Patek Philippe 18K white gold hand engraved masterpiece with hinged back, made and sold in 2013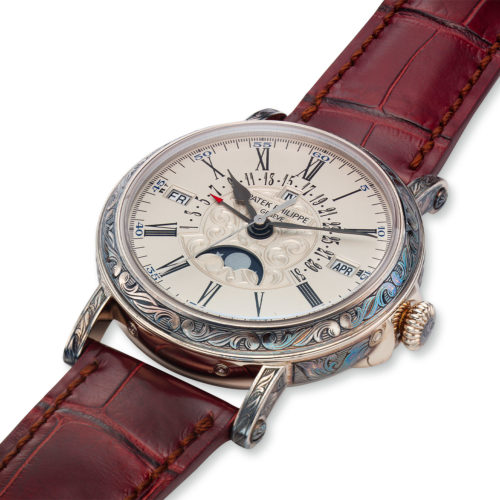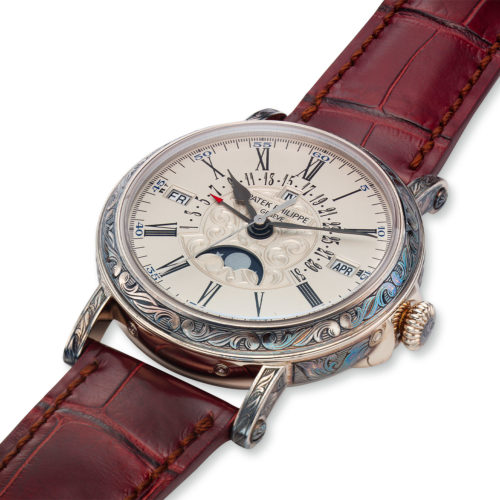 Watches, Watches & Accessories
Collectability seeks to identify and recommend the watches that will be tomorrow's most sought after horological masterpieces. Looking back at historical offerings, it is safe to say that low production numbers, complications, and unique handcrafts are the obvious 'secret' markers in identifying the next hot watch. Often, we see recently out of production models as the value buys of the day. They are not yet 'vintage' and their supply is finite since no longer made; this is the case with the ref. 5160G-001.
Announced by Patek Philippe at BaselWorld in 2010, the ref. 5160G-001 was released in a small, undisclosed number as part of its rare handcraft collection. During its entire run, it is believed that less than 20 examples were made in 18K white gold, possibly far less. A rare handcraft from Patek Philippe is not common to see on the market. A rare handicraft from Patek Philippe with a complication is even more rare.
The original examples of the 5160G, such as this piece, feature a Roman numeral dial with hand engraved central section in a foliate motif. The officer case steals the show with every part fully hand engraved. The artistry of the master engraver is put to the test with the company's Calatrava logo on the central portion of the outer case. Even when opening the hinged case back, the careful eye inspects with appreciation the hand engraved foliate motif around the sapphire case back of the inner case.
Now discontinued, the latest and current example of this reference is the ref. 5160/500G which features an Arabic dial and an engraved logo with the company name 'Patek Philippe' boldly placed on the case back.
This ref. 5160G-001 offers the buyer the opportunity to own an untouched and complete example of the first series of the reference with the original Certificate of Origin, box, hangtags and stylus. It is mint and fresh-to-market, ready to be added to an important collection.
For an article discussing the ref. 5160G and its vintage inspiration from 1925,
please see this article
. For a look at the current example and to study the differences between the refs. 5160G-001 and 5160-500G,
please see this article
.
Sold
Watch specifications
Reference Number: 5160G-001
Production Year: 2013
Original Date of Sale: 2013
Size: 38 mm
Material: 18K white gold
Dial Color: Silvered with applied Roman numeral and hand engraved center
Watch Movement: 324 S QR
Accompanied By: Box and original papers
CSKU: 1540