Since its inception, Patek Philippe has attracted and nurtured the most highly skilled craftspeople in watchmaking. Within the rarefied world of decorative hand crafts, master engraver Christian Thibert remains a legendary and highly respected figure. Renowned not only for his skills at engraving some of the most iconic Patek Philippe timepieces ever made, he is also acknowledged for bringing "techniques mixtes" – the sophisticated method of combining traditional skills such as engraving and enameling within one decorative form – back to watchmaking. Working closely with the support and foresight of three generations of the Stern family, Christian Thibert was able to preserve and push the boundaries of ancient, decorative techniques through the Metiers d'art department at Patek Philippe. In the following conversation, Christian Thibert gives us an insight into how he learnt his craft and brought ancient art forms into the 21st century.
Collectability: How did you enter the world of rare decorative hand crafts? Was it always an ambition?
 Christian Thibert: I have always loved art in general and in all disciplines. As a child, I wanted to be a violinist, but that was not possible. Then I dreamed of becoming an artist – a painter. My father was a banker and he painted. He did many paintings. As I had artistic tendencies, engraving captured me when I was admitted to the École Boulle in Paris, France (College of Fine Arts and Crafts and Applied Arts).
C: You have extensive knowledge and mastery of rare artisanal skills. Who had the most influence in your early training? Did you apprentice under a particular artisan?
CT: My father painted in a rather impressionistic style. I admired his paintings and loved to watch him draw. Creativity has always attracted me. Together with my imagination, and observations of my surroundings, nature feeds my energy. The École Boulle was a perfect place for me to awaken and reveal my manual, intellectual and conceptual skills. My workshop professor was more than a teacher to me – more a master. He gave me a taste for work well done, with passion, professional ethics and conscience and respect.
C: When did you start at Patek? How long did you work for Patek?
CT: At Patek Philippe I had the good fortune to work with all three generations: Messrs. Henri, Philippe and Thierry Stern. I worked for Patek Philippe for 19 years, from November 1987 to November 2006. This was a very important time in my life.
C: During your early career at Patek, you revived almost extinct traditional techniques. Tell us how you did this in terms of historical research and sourcing artisans.
CT: When I started at Patek, I was placed in charge of the Engraving Workshop, and a year later for all projects involving enameling as well as the creation and design of all Métiers d'art unique pieces: elaborate sculptured clocks, Dome clocks, watch presentation stands and pocket watches. I didn't have to do much research into the Métiers d'art techniques as I already had the chance to work in the world of fine arts & crafts and learn from the masters. The pieces on display in the Patek Philippe Museum were also a huge source of inspiration – for dreaming, imagining and thinking. As for technique, I was able to craft pieces in the style of past masters. I did have to innovate with engraving especially for a piece made for a Patek Philippe exhibition in Texas in 1995 depicting a painting by Frederic Remington, "The Cow Puncher ". I like challenges and risk and I love the art of creating and crafting.
C: It must have been a challenging time to revive traditional decorative hand crafts, particularly when virtually no one else was using these techniques, and not long after the quartz crisis that changed the world of watchmaking. Which techniques were the most difficult to revive? Did you integrate a modern approach to ancient techniques?
 CT: Today many brands talk about Métiers d'art crafts but, in my opinion, not all of them are crafting by hand. To preserve and sustain the know-how, I wanted to innovate by mixing different Métiers d'art techniques and in doing so give a more contemporary, modern look to pieces. I aimed my research toward more contemporary topics while retaining the DNA of the original but using a different eye for visual art. Finding new combinations for the Métiers d'art techniques was a good exercise which required another way of looking at things while preserving the rarest and most advanced techniques.
C: Who had the vision at Patek to help you revive traditional forms of craftsmanship and decoration?
CT: Mr. Philippe Stern allowed me creative freedom in the choice and preparation of my proposals for the realization of Métiers d'art projects, and I am very grateful to him for that. Even so, I always submitted my projects for approval to Mr. Philippe Stern. I often had carte blanche for an entire project, the first drawings, through different stages of making a piece, and right up to completion. I gave my best for the pieces I created. This freedom allowed me to explore many artisanal crafting possibilities and opportunities for combining the Métiers d'art techniques. I take this opportunity to thank all of the craftspeople who contributed to these projects and thereby helped ensure their successful realization.
C: You are responsible for bringing "techniques mixtes" to Patek Philippe, a sophisticated form of artisanship that combines the traditional forms of decoration such as engraving and enameling. What was your inspiration?
CT: I thrive on creating and on enriching my knowledge, while also challenging myself. Each unique piece has a story and its own secrets of how it was made by hand! I do not want technology to take over the know-how and the creation of works of art. The art of les Métiers d'art must be passed on from person-to-person. It is also what ensures the richness and sustainability of these artisanal crafts for future generations and allows us to share and honor the skills of our predecessors.
C: Please explain the design process and how you work in tandem with other artists, particularly when producing a "techniques mixtes" piece?
CT: Let me give you an example: I had the opportunity to work with a friend who is a miniaturist painter on enamel and who practices what is known as the "Geneva technique" of miniature painting. Her name is Anita Porchet. I chose the theme and sketched the project and then we took turns working on the piece. We each brought our passion to the project to make it as best as we could. Anita and I often exchanged ideas during the crafting of our projects. There was no competition between us, but rather, only one goal: to do our best for the piece we were making. It was hugely rewarding!
C: Please explain some of the challenges of working on the miniature canvas of a pocket watch case that is only 2mm thick.
CT: A thickness of 2 mm is amply sufficient to prevent possible distortion of the case of a pocket watch. It gives us many opportunities. On such a piece and depending on the subject, we can combine miniature enamel, translucent enamels, semi-opaque or opaque enamels, soft-cut and de-bossed engraving, guilloché or engraving by engine-turning, and gem setting with precious or decorative stones. This requires studying and setting the feasibility processes for the project which becomes a very precise and detailed order of how and when each artisan contributes to/acts on the project, for each technique and for each Métiers d'art. On such a piece, four artisans (enameler, engraver, jeweler, guillocheur or engine-turning engraver) can act at different times throughout the process. After each stage/contribution, a thorough re-evaluation of the crafting process instructions and next steps is undertaken. Continual open dialogue with the team is of paramount importance. Everyone must give their best for the project, so that the result is a genuine work of art, in the noblest sense of the term.
C: Can you identify an artisan's work? Like a painter, does each engraver have a recognizable style?
CT: A painter takes liberties with his art. Painting is a fast and instinctive art form that allows freedom of action and personal investment. An enameler can also be "free" but with many more constraints that are due to the techniques of the métier and the painting work that is made on a very small surface. Even so, I can recognize the painting work of an individual enameler. By examining the technique and especially the sensitivity that emerges from the work, I can identify the artist. The more you dream, the more you discover and enter the sensitive world of the piece, the closer you can synch with the artist. Engraving: the way in which an artist engraves and designs light movement and reflection in engraved cuts is the signature of the artist's personal touch or style. This is what I call the life of the piece. I can recognize the engraving of someone I have worked with or know. When I was at the École Boulle in Paris, I could recognize which apprentice had engraved a particular piece even if other apprentices had been asked to engrave the same motif. It is possible to recognize the individual engraving style of colleagues that work closely and frequently with you. Mr. Philippe Stern asked me to sign all the important and unique pieces I made. That is why the special pieces I made for Patek Philippe are signed. I did not sign the standard, normal collection pieces.
C: At Collectability we recently had two beautiful skeleton wristwatches for sale, one of the first ref. 3880 and a ref. 3878. For example, can you identify who engraved each one?
CT: If I could hold and inspect the pieces up close, I could probably tell you if I engraved them or whether they were engraved by someone I know. Indeed, there are always small details in the engraved pattern that can reveal the intrinsic and particular character of an artist. One can see what the artist really likes about, and enjoys creating, in the art of engraving. I know this, because, as a general rule, we succeed in doing best what we like the most, and the most beautiful lines therefore stand out.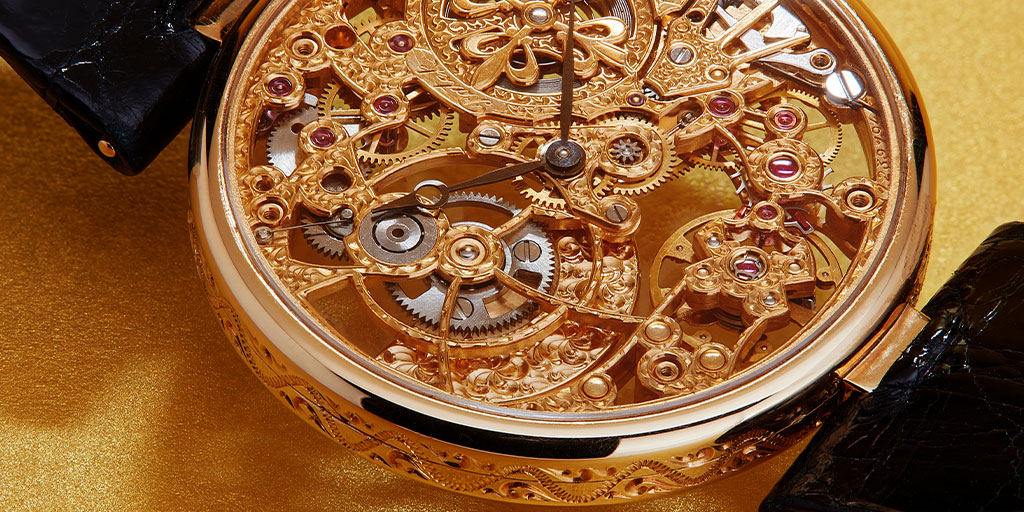 C: Do you know why the early skeleton wristwatches had full lugs, then later versions had T-bar lugs?
 CT: Originally, the watch case was chosen to echo the shape of the Golden Ellipse, the design inspired by the ancient mathematical principle of the Golden Ratio. The later choice of the T-bar attachment was preferred because it made the elliptical shape of the case stand out even more.
C: You are probably best known in the watchmaking world as a Master Engraver. Is this your personal favorite technique?
CT: Above all, I prefer to create. It is my driving force. Engraving is an art that does not allow mistakes and requires that we must "seduce and capture" light. It is what I like about this art form — the element of risk and the requirement for perfection, are always present. The art of the gesture and incision in the metal using a traditional chisel/burin provides great pleasure while engraving, even though we are required to keep a high level of concentration for each and every engraved stroke.
C: Is 14K gold the preferred metal for engraving?
CT: I have never worked on 14K gold but it seems that from the composition of the alloy, the proportion of copper is higher at 23% in 14K than at 12.5% in 18k gold. The gold ratio is 58.3% in 14K versus 75% for the 18K. It means that 14K is harder and therefore the incisions of the chisel/burin can be cleaner and without burrs.
C: Which metal do you prefer to work with? Is platinum the most challenging?
CT: Since antiquity, gold is considered the noble metal par excellence. Engraving is customarily done on 18K gold because it is neither too soft nor too hard. If well worked, 18K gold is well adapted to the world of gold-smithing and watchmaking. Platinum is a less reliable and a more difficult metal to work with. Tools are often damaged and need to be sharpened very frequently.
C: Which case makers did you work with at Patek Philippe? For example, did you work with Jean-Pierre Hagmann on the Star Caliber 2000? Explain the collaboration with case makers.
CT: Jean-Pierre Hagmann is a person I really like, and he is a very good case maker. For my part, I worked on the entire exterior of the cases: dial side and the underside. Of course, I had regular exchanges with the technical department, primarily with Jean-Pierre Frattini, and with the mechanical department for the openings of the backs and front dust cover of the Star Caliber 2000 case. My decision-making principals were always Messrs. Philippe Stern, and his son, Thierry Stern. The realization of the Star Caliber 2000 project was truly a great adventure.
C: Traditionally, Dome clocks are the canvas for cloisonné artisans. But tell us about the engraver's role.
CT: The art of engraving is the art of cutting lines accurately. It's a game played with light. Light always acts as the revealer. Engraving is, without any doubt, the most difficult of the Métiers d'art, especially when patterns representing volutes and acanthus leaves need to be cut. In the art of engraving, there is a form of asceticism in the way one approaches the work: the line must be cut perfectly, and the curve must allow light to flow harmoniously. The eye must take great pleasure in looking at an engraving.
C: Who do you regard as the greatest living miniature enamelist?
CT: I would name two people: Suzanne Rohr and Anita Porchet. Suzanne Rohr is the doyenne of this extraordinary art and is an exceptional person. In a lifetime, one rarely encounters artists like her. She has an undeniable talent coupled with hyper-sensitivity. She is a person full of humanity. She has painted more than 140 pieces for Patek Philippe, an extraordinary achievement. Anita Porchet is also a marvelous talent and has equally wonderful sensitivity. She has always had a close relationship with Suzanne – a beautiful closeness and a beautiful friendship that has linked them to one another. Their friendship resulted in an exceptional sharing of know-how over the years. They are a living example of the perpetuation of the true heritage of this coveted art. I was fortunate enough to be able to work with these two exceptional women who are passionate about this extraordinarily complex and admirable art.
C: Which Patek Philippe enameled masterpiece was the hardest to create?
CT: The Klimt pocket watch was a very difficult piece to make. The main reason is because not all enamels fuse at the same temperature depending on the different enameling techniques used. It was a very delicate process, given the proximity of the different enamels used and coming from the different techniques. In the end, Anita Porchet and I opted in favor of the risky decision to combine the enamels and techniques, primarily for the beauty of the piece and for the challenge of the creative performance. The risk was worth it, and we succeeded!
C: What piece do you regard as your personal masterpiece during your time at Patek Philippe?
CT: In fact, I have several:
The Star Caliber timepieces, particularly the set of four in platinum that I crafted for Qatar with an architectural watch holder to display three Star Calibers
The Samurai Warrior and the Dragon: engraved, enameled, gem-set, guilloché (Lépine pocket watch)
Klimt "The Kiss": engraved, enameled, gem-set, guilloché. Crafted together with Anita Porchet (Lépine pocket watch)
C: Collectors are always looking for a unique piece. Which Métiers d'art can best be adapted to decorate an existing pocket watch or wristwatch?
CT: For collectors and purists, it is important to choose your Métiers d'art watch. To choose your watch well and know what you are buying these days, you should seek expert advice. What is important to know and appreciate are the skills and techniques of the craftsmen and custodians of Métiers d'art know-how, and how the crafts are transmitted from generation to generation. I think the best suited art-forms to decorate a unique piece are enameling and engraving. They make for a beautiful marriage! Of course, guilloché and gem-setting can also be added. Genuine enamel is unalterable unlike other colorful techniques that mimic the art of enamel. That is why you should ask questions of experts, to make sure that you get the right information.
C: Appreciation of rare handcrafts such as engraving as well as all forms of enameling and marquetry have seen a resurgence. Why do you think this is?
CT: I think we are living in an era of unprecedented change in many areas, robotics, artificial intelligence, finance, exercise of power, profit, etc. But I believe people feel a need to cling to traditional and cultural values and to human know-how that still make a difference today. It is how many identify with art.
C: Which watch are you wearing?
CT: I like my Breitling "Super Ocean" watch that I received for my 50th birthday, it is sentimental and how time has flown by. I also wear a Vacheron Constantin "Malte" with a round rose gold case and dual time regulator. Today, I think I should have bought myself a Patek Philippe when I was employed there. I really like the complication references 5496R-001 and 5396R-001 These are superb watches – very well balanced, graphically – very classy, discreet, legible with clear indications.
C: Please tell us about what you are doing now.
CT: I've started painting, but in large formats! I worked for a long time on small surfaces and now I need to express my creativity on larger canvases. Today, I offer my services for consulting and expertise, for project support and for the creation and design of large-scale conceptual projects. I support and defend the sustainability of the Métiers d'art crafts and know-how. Two years ago, I joined a volunteer association and became a governing member of the ASMEBI committee (jeweler's association in French-speaking Switzerland). This association manages all the training of the jewelry trades in Switzerland and works under the auspices of the Swiss Federal government in Bern.
C: Thank you so much for generously giving us so much of your time and insight into your exceptional craft.
Sincere thanks to our dear friend and colleague, Pamela Cloutier for conducting the interview with Christian Thibert in French and for the translation above. If you would like to read the interview in French, please email tania@collectability for a copy.
All images are courtesy of Christian Thibert's private collection unless otherwise specified.