ORIGINAL PAINTING BY GERALD GENTA 'NAUTELLIPSE'
ORIGINAL PAINTING BY GERALD GENTA 'NAUTELLIPSE'
An original prototype design for a Patek Philippe bracelet watch, painted by Gérald Genta, Circa 1978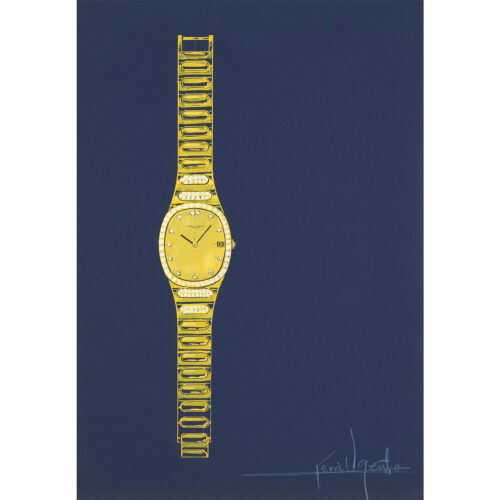 Watches & Accessories
Within the world of watch design, no one is more important than Gérald Genta. And incredible series of auctions was recently held that included the original painting for the Patek Philippe Nautilus which sold for an impressive 727,000 USD.
Genta's creative brilliance was shared with the world and we were pleased to buy a few pieces during these auctions. Now it is our honor to present to you a select few pieces from this historic collection.
According to the auction catalog, "The present design, hand painted by Genta in 1978 is representative of gem-set bracelet watches made by Patek Philippe after this period. Many of the firms diamond-set bracelet watches have diamonds that grace the bezels and the first two to three links of the bracelet. Genta is incredibly well known for his luxury bracelet watch designs. The bracelet watch went from tool watch to jewellery watch, propelled by Mr. Genta."
The ref. 3770 was launched by Patek Philippe in the spring of 1980. At that time, the Patek universe was dominated by the 'hot' watch of the moment – the Ellipse – and the brand was looking to expand its line to include a more desirable sports watch. The steel ref. 3700 Nautilus was selling, but not selling well — it was considered too big and too expensive at the time, retailing for approximately 4,000 USD. It is not hard to imagine that Gerald Genta designed this watch with the two thoughts in mind: 1) how to make a Patek Philippe that perfected and balanced the aesthetic of the popular Ellipse model with his newly designed Nautilus; 2) how to make the bracelet part of the whole and integrating gems to fulfill the desires of his client, Patek Philippe. Only now is the so called 'Nautellipse' beginning to attract the attention of the watch collecting community and this hand painted prototype by Gerald Genta is where it all began with paint, paper, and the brilliant mind of Gerald Genta.
$ 28,000.00
Product specifications
Production Year: 1978
Size: 210 mm x 147 mm
Material: Watercolor on cardboard
CSKU: 1996