In the world of watchmaking, there is arguably nothing more challenging to make, nor more beautiful to behold than a minute repeating timepiece. Minute repeaters have been part of Patek Philippe's DNA since the beginning of the company, and it is no coincidence that collectors and connoisseurs of complicated timepieces intrinsically link the brand to this incredible mechanism. Today, each minute repeater that leaves the workshops has been personally listened to by either the president, Thierry Stern, or his father Philippe Stern. It is essential to the family owned company to preserve and maintain the perfect 'Patek sound' of a minute repeater.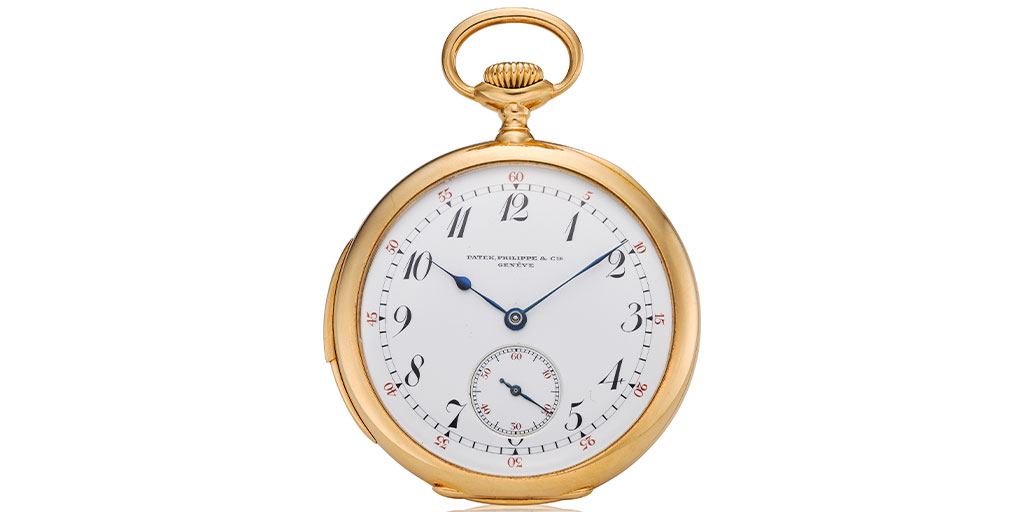 Patek minute repeating pocket watches that are over 100 years old still sound as crystal clear as the day they were completed and represent one of the most undervalued areas of collecting. At Collectability, we believe there is literally nothing made today that is equivalent to the level of watchmaking that can be bought for an equivalent price.
The word "repeater" means on-demand striking. 'Hearing' the time dates back to the High Middle Ages when monks in the twelfth and thirteenth centuries used alarm-type mechanical devices made by blacksmiths to wake them up for before dawn for prayers. Yet it was not until 1686 that the first known repeater mechanism was invented and attributed to Daniel Quare with a patent granted by King James II. The invention of the minute repeater was not until 1750 and attributed to another Englishman, Thomas Mudge. However, this has since been disputed and it is thought that thirty years earlier in the German town of Friedberg, watchmakers had already mastered a mechanism that chimed the hour and nearest quarter hour. No matter who was responsible for watches with minute repeaters, they remained exceptionally rare and only enjoyed by royalty or privileged members of the nobility.  It was not until the mid-19th century when watchmakers like Patek Philippe could invest in developing the mechanism and opening availability to a broader, yet still privileged clientele.
On September 4, 1839 five months after Antoine Norbert de Patek and his then partner François Czapek opened a shop on Quai des Bergues in Geneva, they sold a pocket watch with a quarter repeater. The delighted buyer paid the considerable sum of 450 CHF for the special timepiece. This significant sale enabled the company to invest further in its pursuit of excellence in manufacturing striking timepieces. Three years later, it completed its first-quarter repeater pocket watch with independent seconds. In May 1845, a half-quarter repeater was completed, followed two months later by the first minute repeater. A quarter repeater with the additional complication of a tactile hand – a useful addition that meant the time could be sensed with a fingertip in the dark – was presented three months later in October 1845. Also known as "à tact" (tactile) this pocket watch can be seen in the Patek Philippe Museum, its bright white enamel dial with black Roman numerals has lost none of its brilliance (see above for image).
After the debut of the minute repeater in 1845, Patek created the first pocket watch with a grand and petite sonnerie (grand and small strike). In 1846, it was sold to Cardinal Pallavicini in Italy.  By the time the company changed its name to Patek Philippe & Co. in 1851 to reflect the partnership with Jean-Adrien Philippe, it was well known for its repeater timepieces.
Most repeaters struck the time with two hammers on two gongs, while others had three hammers and three gongs. The stately Westminster chime, the most magnificent repeater of all, named after the chime of Big Ben in London's Houses of Parliament, had five hammers and five gongs to sound the grand and small strikes. One of the earliest pocket watches with a grand and petite sonnerie and Westminster chime is the incomparable Duc de Regla made in 1909 and sold to the Duke of Regla in Mexico in 1910. On display at the Patek Philippe Museum it is one of the most impressive exhibits (above).
Repeater movements were based on raw movements or ébauches supplied by primarily by Victorin Piguet a historically respected purveyor from the Vallée de Joux and a frequent supplier to Patek Philippe from the beginning of its repeater production until 1960.
In 1906, Patek Philippe's first production series of repeater movements (without dials and cases) were shipped to Tiffany & Co. in New York, an important Patek client since 1851. The reason that Patek was then willing to share its movements with the American retailer was in part due to the fact that Tiffany had tried in 1872 to start its own state-of-the-art watchmaking manufacture in Geneva, but failed. The premise that combining modern American methods of mass production with the traditional know-how of the Swiss, did not appeal to the local watchmakers who for generations had made components in their own homes. The American style of punching in and out of an enormous factory did not suit the independent workers. In 1876, the closure of the Tiffany factory further joined the two companies as Patek agreed in a contract to "endeavor to the best of their ability to dispose of the machinery, tools, furniture and fixtures etc. as per the schedule annexed at the prices therein named …" Visitors to the elegant, flagship Patek Philippe store on the Rue du Rhone can still see a relic of the closure of the Tiffany factory as its magnificent old vault has pride of place in the salon.
Part of Patek Philippe's early success with the production of minute repeater wristwatches was due to its already extensive experience with the highly technical challenge of miniaturizing complex movements. At the 1896 Swiss National Exposition in Geneva, Patek displayed a 9 and a 10 ligne minute repeater (a ligne is a traditional unit of measure for movement diameters equal to 2.255 millimeters). These two pieces were ladies pendant watches and visitors were in awe to see such small timepieces that could strike the time on demand. When the company received an order in 1916 to make Mrs. D.O. Wickham a five minute repeater wristwatch (chiming the hours, quarter hours, and then the nearest number of five minute intervals), it was able to oblige. The 27.1 mm platinum case with an integrated chain link bracelet holds the worthy position as Patek's first repeater wristwatch (above). Unfortunately, ladies had to wait almost 100 years for the next Patek Philippe minute repeater in their honor. In 2011, the ref. 7000R Ladies First Minute Repeater was added to the collection. Housed in an elegant, simple 33.7 mm case of 18K rose gold, the caliber R 27 PS is composed of 342 components. Its delicate, sonorous chime is widely acclaimed for its sound quality, quite a feat for such as small case diameter.
Regular production of wristwatches with minute repeaters began in the mid 1920s using calibers ranging from 10 to 14 lignes. The preference was to use 12 ligne calibers because they integrated well into 27 mm cases, a size which provided a large enough volume for the best acoustic quality. The company's first minute repeater wristwatch was made in 1924 and sold in 1925 to Ralph Teetor, the American automotive engineer whose inventions included cruise control. Mr. Teetor found the ingenious, chiming wristwatch particularly helpful as he was blind.  There was a lot going on in 1925 as this was the year that Patek Philippe also created the first perpetual calendar wristwatch ref. 96.
Another American client who took an early interest in minute repeaters was the legendary collector, Henry Graves Jr (1868-1953). On June 16, 1928, he took possession of his first Patek wristwatch, a tonneau-shaped 18K yellow gold minute repeater. The 30.5 mm x 39.5 mm case had been made a year earlier, and the movement significantly earlier in 1895. For over 30 years, Patek kept the movement, a manual 12 ligne caliber until the right application came along, something that is unlikely to happen today. The watch was mostly unknown until it came up for sale at Sotheby's sale of the Graves/Fullerton collection in 2012 where it sold for a then staggering $2,994,500, a record for a minute repeater. In November 2019, the watch hit the auction floor again, this time selling for 4,575, 000 CHF. Graves also owned another tonneau shaped minute repeater in platinum which can be seen in the Patek Philippe Museum (above). Also made in 1928, it is one of three tonneau shaped minute repeaters made by Patek around that time.
Although the 1920s were an exciting time for the development of the first wristwatches, pocket watches were still being produced and new movements invented. In 1927, Patek completed one of its most complicated pocket watches for the American automobile magnet, James Ward Packard. Known today as 'The Packard', this special piece has ten complications including the first minute repeater with astronomical indications. At just 19 lignes, the stunning timepiece features a celestial chart that mapped the night sky over Ward's beloved home located in Warren, Ohio.
Five years later in 1933, Patek Philippe astounded the watchmaking world with the most complicated timepiece ever made, known since as the 'Graves Supercomplication' (above). With 24 complications, the 'Graves' held its lauded position until Patek surpassed itself with the Calibre 89 in 1989 which had 33 complications. Included in the 'Graves's' 24 complications is a grand sonnerie with Westminster chime.
Patek Philippe continued to make minute repeater pocket watches as part of its regular production until the 1950s. Rare among both pocket watches and wristwatches are examples made in platinum. Many believe that the noble metal is not very suitable in terms of acoustics because the density is 30% higher than that of gold and can have an impact on the quality of the sound. That being said, platinum minute repeater pocket watches and wristwatches are still sought after for their rarity and the fact that the 'Patek sound' remains outstanding in these pieces.
Very rarely were early minute repeater wristwatches made with additional complications. The first known piece was completed in 1939 with a perpetual calendar and moon-phase (above). Incredibly, it was not until Philippe Stern commissioned the ref. 3615 in 1982 using a Victorin Piguet movement blank from the company's inventory, that the first wristwatch with a minute repeater, perpetual calendar and chronograph was made (see below).
Only around a dozen wristwatches with minute repeaters were made by the manufacture between 1925 and 1942 making them among the most sought-after watches by collectors. Four of these can be seen in the Patek Philippe Museum, including the watch made for Ralph Teetor. Even though minute repeater wristwatches were made during the so-called 'Golden Age' of watchmaking – after World War II – it is estimated that no more than 30 of these watches were produced until the late 1950s.
Patek Philippe stopped making minute repeaters around 1960 as demand was virtually non-existent and other manufacturers had also ceased production. It was not until twenty years later in the 1980s, that everything changed thanks to Philippe Stern's commitment to fine watchmaking. The then company president, reintroduced the production of minute repeaters using vintage movement blanks from the Vallée and adding additional complications: ref. 3615 with a mono-pusher chronograph and perpetual calendar (discussed above), and ref. 3621 with a perpetual calendar, moon phase and moon age indicator. Pocket watch production was still of great importance to Patek and in 1983 the ref. 920/1 was presented. This split-seconds chronograph with perpetual calendar, grand sonnerie and minute repeater was perhaps a taste of things to come with the Calibre 89.
These timepieces, made at a time when most fine watch manufacturers were reeling from the effects of the quartz crisis, attest to the steadfast, personal interest of Philippe Stern in complicated watch making. Philippe Stern was determined to prove that fine mechanical watches had a future. When Philippe Stern was planning for his company's 150th anniversary, he decided that the time was right to bring back the minute repeater wristwatch but this time with a movement crafted entirely in-house, the caliber R 27 and the iconic refs. 3974 and 3979 made their debut in 1989 (below). For more on this exceptional time in Patek Philippe's history, see our post on the 150th anniversary of the company and the limited editions including the historically important Calibre 89 that were introduced as part of the celebrations.
Since the reintroduction of minute repeaters in 1989, Patek Philippe has invested extensive energy into trying to quantify what constitutes the perfect 'Patek sound'. As Philippe Stern said in 2009, "When the sound is not strong enough it is fairly obvious. Then you need to consider the harmony of the hours and quarters and minutes, and of course at what pace they should ring – not too fast, not too slow. It is difficult to be exact because it is not a science; it is more a personal feeling." When the minute repeater slide is activated, the hours are sounded with a low tone, with a combination of low and high tones for the quarters and a higher, faster tone for the minutes. In 1989, Philippe Stern decided that the ideal duration of a chime to mark 12:59 was between 15 and 16 seconds (to allow for the 32 strikes of 12 for the hours, six for the quarters and 14 for the minutes). Interestingly, today the ideal time for this mini opera is between 17 and 18 seconds as advancements in metallurgy and watch making techniques allow for a richer sound quality.
From 1992, minute repeaters became part of Patek Philippe's regular production (non-limited edition pieces) and its selection of models remains unmatched in the industry with around 10 – 12 different models in the current collection. It is estimated that around fifty minute repeater movements are made a year, but these are divided among the various models, so the quantity per reference is extremely limited. As Philippe and Thierry agree, "Minute repeaters will always be sought after and rare!"
To listen to and watch a collection of nine different Patek Philippe minute repeaters, see this video made by Hodinkee in 2013.