1989 was a pivotal year in Patek Philippe's history. The year marked the company's 150th anniversary and solidified Philippe Stern's indelible stamp on changing the future of Patek Philippe. This was Philippe Stern's opportunity to prove to the world that fine mechanical watches were here to stay. Not only did he introduce eight limited edition timepieces including the iconic Calibre 89, the world's most complicated timepiece, but he combined their introduction with The Art of Patek Philippe by Habsburg, Feldman – a thematic auction of 300 vintage Patek Philippe timepieces from the company's museum, plus the auction of the Caliber 89. Never before had a watchmaker celebrated an anniversary and presented a new collection at this scale.
With typical Patek Philippe flair and foresight, the company employed an international PR agency, Hill & Knowlton in 1988 to make sure that members of the public did not miss the following critical anniversary year. Patek soon started to receive unprecedented media coverage. For example, in January 1989, the New York Times magazine devoted a page to the building of the Calibre 89 in its 'Work in Progress' section; the week after the Habsburg, Feldman auction in April, the Calibre 89 featured on Saturday Night Live as Dennis Miller announced its sale on 'Weekend Update'. For the first time, fine watchmaking had become part of popular culture. Thanks to the Caliber 89 setting a world record for the most expensive watch ever sold, and with the back-up of an integrated global marketing campaign, the name Patek Philippe became significantly better known throughout the world. It's hard for us to appreciate this now, but there was a time when the name Patek Philippe was only known to a privileged few. Philippe Stern's decision to invest in marketing the 150th anniversary started to significantly change awareness – and the way other astute watchmakers approached their marketing.
The 1989 limited edition timepieces are the first examples of a series to commemorate a milestone in Patek Philippe's history. As the brochure introducing the watches describes: "For our 150th anniversary we have created eight new models to demonstrate our skills, standards and values. We would like to hope that future generations will look upon these eight models as the spirit of the days when people took pride in creating objects of precision and beauty." Here are the eight models:
 Calibre 89
In 1979, Philippe Stern, then managing director of Patek Philippe and already a visionary, gathered a team of people to start planning for the company's 150th anniversary, ten years ahead. That same year, ETA introduced the 1.95 mm quartz Delirium watch, proving that the Swiss could compete with the extremely competitive Japanese quartz technology that was destroying the Swiss watch industry. However, Philippe Stern decided to take a different course — and potentially a huge risk: he challenged his most brilliant watchmakers and technicians to make the world's most complicated mechanical timepiece. In 1980, the team started the extraordinary nine year journey to achieve this. Since 1932, Patek had held the record for the most complicated portable timepiece with the Graves Supercomplication (24 complications). Now Philippe Stern asked his team to invent complications never created before – no easy challenge even for the masters of watchmaking. Because of this, it took a team five years of research, design and mathematical calculations and then another four years of making, finishing and assembling the 1728 parts that make up the Calibre 89 and its 33 complications. Mind-blowing, first-ever mechanical achievements are housed in this 88.2 mm pocket watch such as the date of Easter. Part of this one function requires a wheel which completes a revolution once a century. On the edge of this wheel is a diamond shaped satellite that completes a turn every 400 years. On February 28, at the end of three consecutive centuries, it moves a lever that overrides the leap-year mechanism. In the last year of every fourth century, it allows the perpetual calendar to indicate February 29. Why? Because in the Gregorian calendar, three leap years are missed every four centuries. No other watch manufacturer had mastered this complication and many others that added to the numerous list of patents associated with this timepiece. Much has been written about the Calibre 89 and it deserves much more attention which we will give at a later date. To hear some of the key people who actually created the Calibre 89 see this video.
The Calibre 89 remains not only one of the world's most complicated timepieces, but a benchmark in horological history.  As is well known, it's title as "most complicated" has relinquished to Vacheron Constantin's ref. 57260 with 57 complications, yet purists still regard this and the Graves Supercomplication as seminal creations.
Officer's Campaign watch ref. 3960
For its time-only anniversary watch, Patek Philippe looked to the past to create a classic design for the future. Inspired by the type of timepieces used by front-line officers in the First World War – basically, a hunter pocket watch strapped to the wrist to save time checking the time (and potentially a life) by looking quickly at their wrist, rather than pulling out a pocket watch. Made in 18K yellow gold, white gold or platinum, the caliber 215 PS movement is hidden under an elegant, hinged hunter case over a dust-cover back engraved with the movement number and text commemorating the 150th anniversary. Further differentiating this from previous Calatrava models, the ref. 3960's Bassine-style case with Louis XV winding crown, has screwed-in bars between the lugs instead of a spring-bar, a screwed-in buckle bar, a porcelain-white dial marked with Breguet numerals and a railway-track dial, all of which emphasize the turn of the century look of the watch. This classic design was later used to inspire the ladies' ref. 4960, men's ref. 5022 and the quintessential Officer's Campaign watch ref. 5053 with a sapphire back under the hunter case.
A total of 2000 were made in 18K yellow gold of which it is estimated 250 have returned to the market; 150 were made in 18K white gold with 43 identified for re-sale; of the 50 pieces made in platinum, only 15 have been identified on the open market so far.
At auction, these pieces in 18K yellow gold are fairly stable in the $18,000 – 22,000 range. March 11, 2020 at a Sotheby's on-line sale a ref. 3960J sold for $18,750.
Jump Hour ref. 3969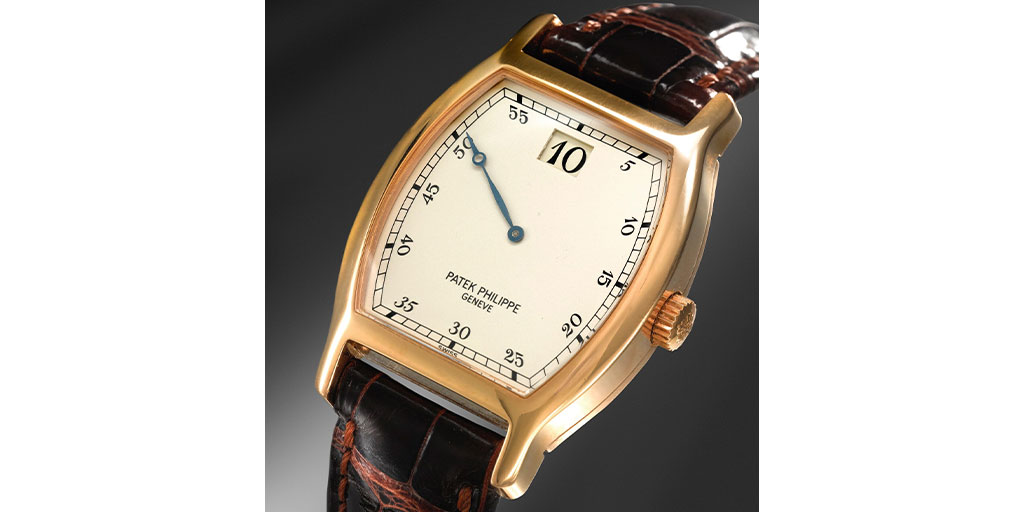 After World War I, wristwatches became more popular and during the prosperous and exuberant inter-war years, particularly around the 1920s, designers let their imaginations run wild and watch design was no exception. The simple, yet unique style of the tonneau-shaped Jump Hour was one of the most pleasing designs of the 1920s. Interestingly, tonneau and rectangular shaped watches remained popular until the 1940s when round watches regained popularity. For the ref. 3969, Patek Philippe redesigned the original mechanism to drive the unusual combination of a digital hour display and minute-hand directly from the main movement. The movement is caliber 215 HG (also called 215 HS Heures Sautantes). The hour hand is replaced with an hour disc seen through an aperture at 12 o'clock. The elegant case with polished bezel is by Favre & Perret, La Chaux-de-Fonds. The gold dial with opaline silver is marked with Breguet numerals and a railway track minute scale. The back is engraved with the movement number and text commemorating the 150th anniversary. As with ref. 3960, distinctive, period-style gold screw pins hold the gold buckle to the strap and the strap to the case.
Only 500 were manufactured, 450 in 18K rose gold and 50 in platinum. Of the 450 rose gold pieces, around 120 have been identified back onto the market; of the 50 platinum, around 25 have been identified. Surprisingly for this particularly attractive watch, the ref. 3969 has not fetched the strongest results at auction which may in part be because this design is less well known in Patek's catalogue. That being said, if one becomes available, it is certainly worth serious consideration for a collector.
Self-winding minute repeater ref. 3979
If there is one movement for which Patek Philippe excels above all others, it must be the minute repeater. Regarded as the horological pinnacle for any serious watchmaker, it is the most challenging movement to master as its success is laid bare for all to hear. Patek Philippe has worked to master this movement from its origins in 1839 and today, either Thierry Stern or his father Philippe will personally listen to each minute repeater before it leaves the workshop to ensure that the timbre of the chimes is as close to perfect as possible. See this video from Patek.com which explains the company's philosophy regarding minute repeaters. It makes sense therefore that for the company's first official line of limited editions to mark a significant anniversary, not one, but two minute repeaters were presented: the ref. 3979 and the ref. 3974.
Before the invention of electric lights and luminous dials, the chime of the time was the only indication during the night or low light. To hear the delicate chime of the hours, quarters and minutes still remains a pleasure. The ref. 3979 is one of the most important watches ever made in a series by Patek Philippe and was likely inspired by the ref. 2524/1 made in 1954.  The device in the watch that 'reads' the time and mechanically transmits the information to the tiny hammers that strike the gongs is one of watchmaking's most fascinating inventions.  This mechanism is built into Patek Philippe's patented self-winding movement, caliber R 27 PS, which is powered by a 22-carat rotor. The watch was sold with an additional sapphire crystal back through which this magnificent movement could be viewed. The 18K yellow gold case was initially made by Jean-Pierre Hagmann and the earliest pieces are stamped 'JPH'. The following production run of cases were made by Ateliers Réunis (as indicated by the Geneva case maker's mark Key 28). The porcelain-white dial is marked with Roman numerals and a railway-track minute scale.
Produced from 1989 – 2002, around 100 pieces were made in total, most in 18K yellow gold with an estimated 12 each made in 18K rose, white gold and platinum. To date, approximately 29 yellow gold, three white gold and five platinum have appeared on the market. It is interesting to note that no rose gold versions have appeared yet.
Self-winding, perpetual calendar minute repeater ref. 3974
The ref. 3974 is also one of the most important pieces in the Patek Philippe catalog and was the world's most complicated wristwatch when launched. It combined a perpetual calendar, moon phase and 24-hour indication with a minute repeater. In 1925, Patek Philippe introduced the first perpetual calendar wristwatch and the first men's minute repeater wristwatch, made for the American automotive engineer Ralph Teetor, who was blind (and whose inventions included the first cruise control). However, it wasn't until 1989 and the ref. 3974 that Patek combined a perpetual calendar with a minute repeater in regular production. As the catalog describing this watch states, it is "a truly astonishing culmination of a century and a half of horology at its highest level." The caliber R 27 Q movement comprises of 467 components with a mere thickness of 6.80 mm. The ingenious sunken 22K micro-rotor enables a self-winding movement to also be housed in such a relatively slim case size. The very first movement was numbered 1'906'000.  The cases were initially made by Jean-Pierre Hagmann (early examples have the case maker's mark). Originally trained as a jeweler, JP Hagmann set up his own company in 1984 specializing in high quality watch cases. He worked for several of the top watch manufactures, most notably Patek Philippe for whom he made cases for the firm's Grand Complication series such as references 3974, 3979, 5016 and 5029. Later cases for the ref. 3974 were made by Ateliers Réunis. The ref. 3974 included a sapphire crystal back option.
The ref. 3974 stayed in production until the year 2000, and final production numbers are not known, but it is estimated that around 160 pieces were made in total, most in 18K yellow gold with around 15 in 18K rose gold, 12 in 18K white gold and 20 in platinum. From these pieces only 24 yellow gold, 4 rose gold, 2 white gold and 6 platinum have come back to the market. At auction, prices have remained relatively steady with platinum watches naturally fetching the highest prices. In November 2018 at Phillips, Geneva, a platinum ref, 3974P sold for 1,032,500 CHF. In May 2019 at Antiquorum, Geneva, a yellow gold ref. 3974J sold for 389,000 CHF.
Ladies lapel watches "Les Impériales" references 4760, 4761 and 4762
Before ladies took to wearing timepieces on their wrists – as early as 1868 for a very innovative client of Patek Philippe – women of distinction wore a valuable and beautifully made watch on the lapel of their finest dress. In an effort to revive this trend from the 19th century, Patek decided to bring back the lapel watch for its 150th anniversary. The case is similar to the ref. 3960 Officer's Campaign watch and no doubt directly inspired the ref. 4860, a more practical wristwatch for the modern woman. Three versions were made in 18K yellow gold, each with slightly different chain lengths and all with a quartz movement. Ref. 4760 was made in 50 pieces with a velvet bow and one link chain, ref. 4761 was made in 50 pieces with a three link chain on a swede bow and ref. 4762 was made in 50 pieces with five chain links on a leather bow. These pieces rarely come up at auction and are well-priced in the 3000 – 5000 USD range.
As Philippe Stern said when he briefed his team way back in 1979, this was an opportunity to do "something interesting for collectors". Little could he have known how significant this simple statement would become as Patek Philippe is arguably the most important brand for collectors with limited editions in particular remaining much sort after. In our third in-depth series, we will look at the limited editions made for the next important Patek Philippe celebration, the opening of the new workshop at Plan-les-Ouates in 1997.