The superlative Patek Philippe accessory
What is the ultimate Patek Philippe accessory? There is strong competition from elegant cufflinks, key chains, and even rings, but nothing can compare to the Golden Ellipse lighter. Created in the late 1970s, but made with 19th-century finishing techniques, these accessories captivate even non-watch collectors. And specialist lighter collectors have started to covet Patek lighters for their unparalleled finish and construction. Even if you don't smoke, you might discover you need to own one – if you can find one!
When someone first holds one of these lighters, the reaction is always the same: 1) it feels great – it's a solid chunk of gold weighing over 90 grams; 2) it's amazing to engage the lighter and control the flame with the precision of a Patek Philippe finished mechanism; and 3) closing the lid to extinguish the flame creates a beautiful melodic sound that only solid gold can achieve.
Exceptional workmanship
Most high-end lighters have a base metal body covered by a layer of gold. Not those made by Patek Philippe. These lighters are made from a solid block of gold and each piece is decorated to the highest standard imaginable by Patek Philippe artisans to showcase traditional finishing techniques. An advertising brochure from the manufacture from the late 1970s outlines the effort and know-how that went into their production: "The flat surfaces of ordinary lighters can be engine-turned industrially. For Patek Philippe this is inconceivable; not only as a matter of principle, but also because the Patek Philippe lighter has a convex surface to underline the Golden Ellipse shape and fits more snugly into the palm. Texturing the lighter therefore requires hand-operated equipment – rose-engines from the 19th century."
At first, I didn't notice the convex shape of the case, but I now see and feel it every time I hold a Patek lighter. This combination of extraordinary design and exceptional workmanship should be appreciated more. Plus, factor in the texture of designs – and enamel in some cases – and you have nothing short of a functional work of art.
A multitude of designs
The Patek lighters were made with dozens of design variations. Given the known lighters and the examples shown in literature, it seems these lighters were only made in 18k yellow or white gold. The basic designs were the following, all available with custom factory monograms on demand.
Ref. 9502 (Louis-Philippe)
Ref. 9504 (Ocean)
Ref. 9505 (Chevrons) 
In addition to the all-gold lighters, examples were made in enamel: translucent blue, green, or red enamel over a hand-engraved barley-corn pattern. Of the known examples, it appears the enamel lighters are the rarest. In the early 1980s, regular solid gold lighters had an original retail price of 5,800 USD, while the enamel versions retailed for 8,000 USD. For comparison, in 1985, a ref. 2499/100J retailed for 22,000 USD!
The enamel lighters had different reference numbers.
Ref. 9506 (Red)
Ref. 9507 (Blue) 
Ref. 9508 (Green)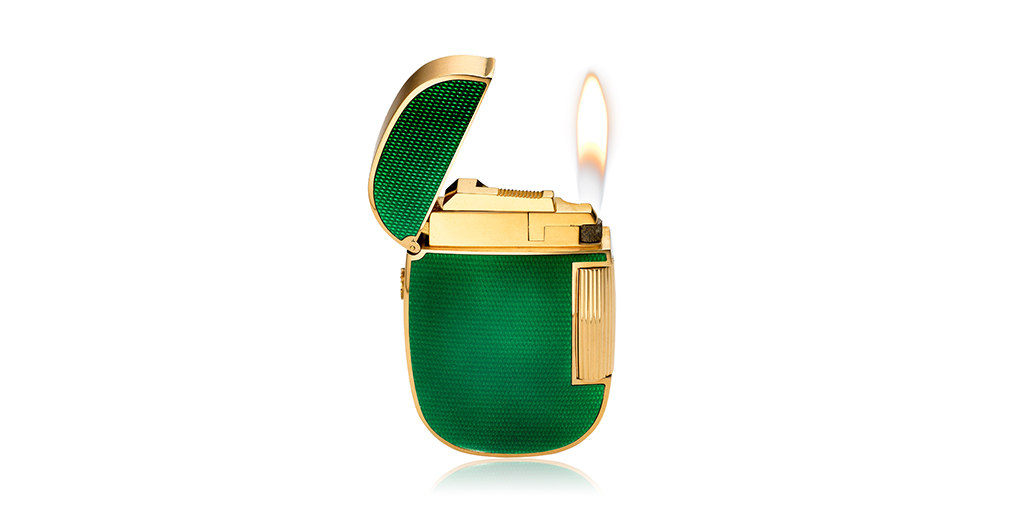 Customization for a personal touch
Yet Patek Philippe took it to another level with customized lighters. 'Patek Philippe is the only manufacturer still able to accept your order for an enameled pocket watch with a motif of your choice, or a hand-engraved or enameled Golden Ellipse lighter,' states the company brochure in 1978. Only enamel of the highest standard was used for customization; a few examples are known to have been made for the Omani Royal Family, among other notable patrons of the brand.
Ref. 9512-1 (Omani Flag in Enamel over Chevrons, Engraved Khanjar)
Technically, Patek's marketing confirms that each component of the lighter mechanism is hand finished internally and polished by Patek Philippe. The same care that goes into a watch movement went into the care of making each component of the lighter and this seemingly allows the lighter to operate flawlessly.
Identifying marks
It is a simple process to understand the three primary markings on each case beyond the engraved 'PATEK PHILIPPE'. First, there are the gold marks 18k and .750; there are also two other hallmarks punched next to the 18k marks. Next is the reference number, a four-digit number starting with 95. And last is the individual lighter's serial number that starts with an A then 3 digits (for example, A169).
Presently, there are 30 known lighters that have surfaced at auction and with dealers. I am creating a database of all known lighters so please feel free to contact me if you would like your lighter included. My best guess is that there were 100 to 200 lighters made in total as Patek Philippe stated 'only a few dozen were released annually'. Originally, they were sold with presentation boxes and certificates and occasionally packed with matching cufflinks.  
Visit the Collectability Shop to see the ref. 9502 and the ref. 9508.
Patek Philippe Reference Facts
Reference Number: 9502 (Louis-Philippe), 9504 (Ocean), 9505 (Chevrons) and enamel models such as the 9507 (green)
Metal Availiabilty: Yellow gold, White gold
Guesstimate of Production Number: 100–200, all versions
Size: 58mm x 40 mm x 14 mm
Years of Production: 1978–1980