Patek Philippe YELLOW GOLD REF. 3970EJ
Patek Philippe yellow gold perpetual chronograph, made and sold in 1989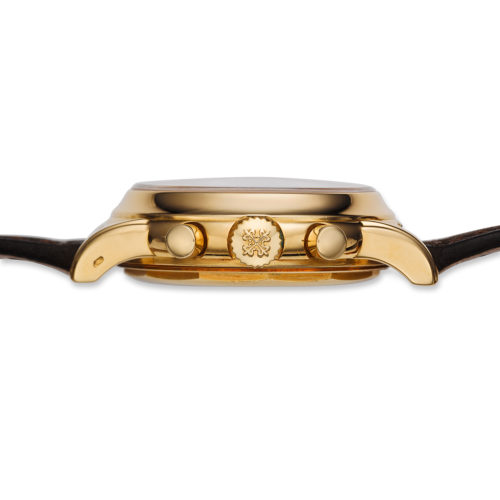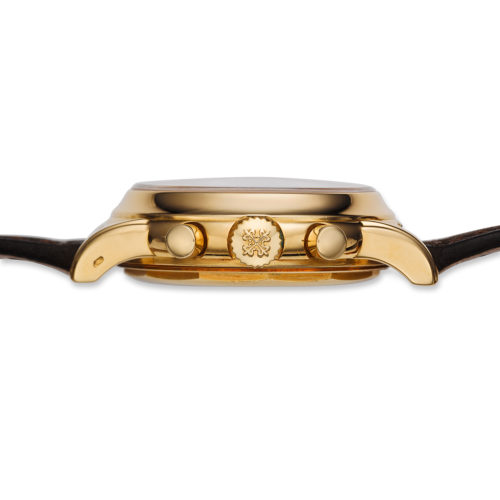 Watches, Watches & Accessories
The ref. 3970 was released in 1986 and replaced the ref. 2499 as the flagship perpetual calendar chronograph of the marque. Utilizing a Patek Philippe finished Lemania caliber, rather than the Valjoux caliber of its predecessor, the ref. 3970 remained in production for almost 20 years.
Today many collectors find the ref. 3970 the ultimate 'bargain' of Patek Philippe's high complication watches.  However, be warned, interest in this reference is growing by the minute. Astute buyers are seeing the ref. 3970 for what it is: a benchmark reference that is only growing in popularity and becoming the trophy purchase of a new generation of collectors.
Much has been written on the reference (and more in the works) but it is highly recommended you read Cara Barrett's In-Depth article on Hodinkee to get a detailed overview of the ref. 3970.
This example is from the second series ref. 3970s that feature rectangular baton numbers and feuille (leaf) hands. This series was made with solid backs and rarely supplied with a second display back. It's hard to imagine that a ref. 2499 that left the factory in 1986 is worth well over 500,000 USD and the ref. 3970 is so reasonable in price by comparison. What a difference three years makes! Let's see what the future holds for ref. 3970s but, in my opinion, in looks very bright.
Sold
Watch specifications
Reference Number: 3970EJ
Production Year: 1989
Original Date of Sale: May 27, 1989
Size: 36mm
Material: 18K yellow gold
Dial Color: Silvered dial with applied rectangular batons
Watch Movement: Manual caliber 27-70 Q
Accompanied By: Extract from the Archives, 18K yellow gold folding clasp and stylus
CSKU: 1501