Patek Philippe SPLIT SECONDS POCKET WATCH
Patek Philippe 18k open-face split seconds pocket watch, retailed by Tiffany & Co, made in 1938, sold in 1945.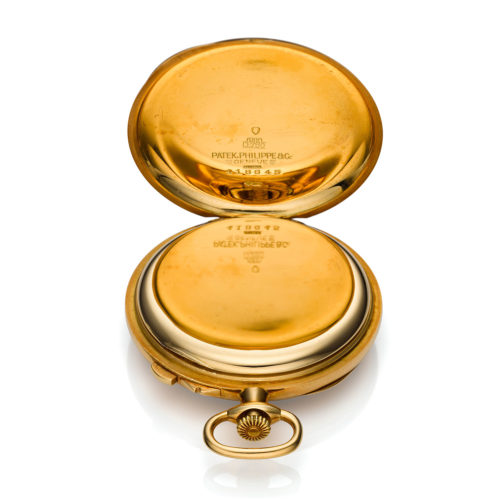 Watches, Watches & Accessories
The split seconds complication allows two events to be timed simultaneously, most often a horse or automobile race. This example of a Patek Philippe split seconds chronograph is the ultimate aesthetic execution of this complication with a highly desirable Tiffany & Co. signature and archive confirmed breguet numerals and tachometer scale. Amazingly well preserved, this time machine is a specimen example of a split seconds chronograph. Upon careful inspection of the near mint movement, one can see the PXP stamp next to the balance, indicating it was made for the US market. (PXP was used before HOX as the Patek Philippe import mark for the United States).
Sold
Watch specifications
Reference Number: Pre reference number
Production Year: 1938
Original Date of Sale: October 1, 1945
Size: 46 mm
Material: 18K yellow gold
Dial Color: Silvered dial with confirmed Breguet numerals
Watch Movement: 17''' split seconds
Accompanied By: Extract from the Archives
CSKU: 1752