PATEK PHILIPPE YELLOW GOLD RECTANGULAR REF. 11
Oversized curved Patek Philippe wristwatch, made in 1920, sold May 1927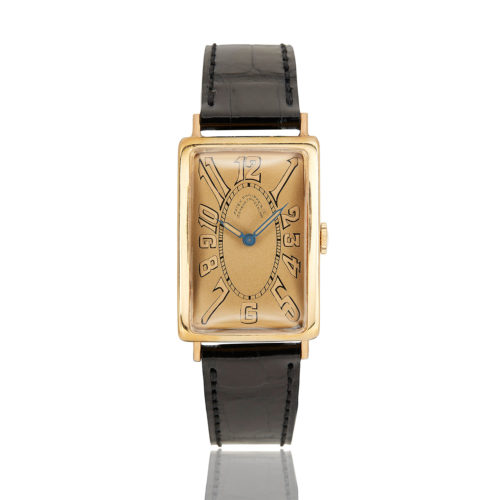 Watches, Watches & Accessories
The ref. 11 entered production in 1917 and stayed in the line until approximately 1932. Massive in size, yet perfectly proportioned for the wrist, this elegant reference is a holy grail for collectors today. Fresh to market and just back from a Patek Philippe restoration in Geneva, this 100-year icon of design offers a museum quality specimen.
Less than three dozen ref. 11 are known to exist today and this newly discovered watch is the thirty-first to surface. Many examples of this reference have succumbed to the abuses of time such as moisture or shock, yet this piece has survived and has a new brilliance thanks to the restoration by Patek Philippe. Perhaps the 172-week service estimate, and nearly 20,000 USD repair bill, may have ended this watch's useful existence but the perseverance and dedication of the previous owner has resulted in a total overall of this watch to it near original glory.
Re-pivoting of the movement, and new vintage-style gold spring bars from Patek Philippe have given this watch a new lease on life. Beautiful on the wrist, this watch is a study in the true value of Patek Philippe's restoration work.
Sold
Watch specifications
Reference Number: 11
Production Year: 1920
Original Date of Sale: April 13, 1927
Size: 45.5 lug tip to lug tip x 25.5 mm width
Material: 18K yellow gold
Dial Color: Gilt with black painted 'exploded' numerals
Watch Movement: 10"'
Accompanied By: Extract from the Archives
CSKU: 1207