Category: Watches and Accessories.
PATEK PHILIPPE YELLOW GOLD CALATRAVA REF. 5115J
PATEK PHILIPPE YELLOW GOLD CALATRAVA REF. 5115J
Patek Philippe ref. 5115J with enamel dial, made in 2000 and sold in 2001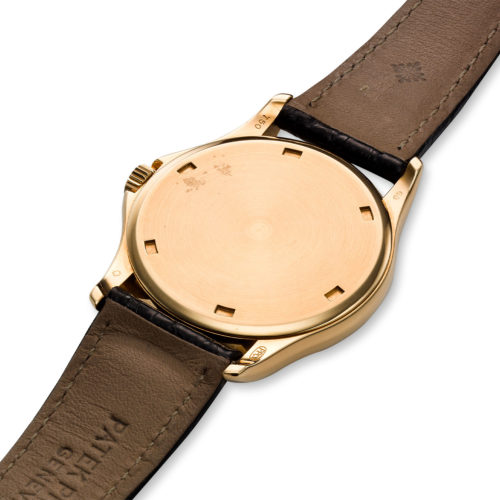 Watches and Accessories
When asked what the ultimate sleeper time only manual watch is from the modern era, one reference immediately tops the list — the ref. 5115 with an enamel dial. This reference was relatively misunderstood when launched in 2000 and continues to remain under the radar. However, a look at the facts of this exceptional reference makes a valid case that this watch belongs on your wrist. First and foremost, let's study the dial: made with true baked enamel, a close look reveals the attractive imperfections that bring these dials to life. Literally, each and every ref. 5115 dial is different and the slight 'pitting' you see on the surface of the enamel is what gives each piece so much personality. Compared to modern enamel from Patek Philippe that is much smoother and even (due to the addition of extra polymers) the early ref. 5115s have a vintage appeal that we dare to compare to ref. 2526 dials. Once you see it with your own eyes, your appreciation of the texture on ref. 5115 dials may very well convince you that these dials are some of the most beautiful enamel dials ever made. Does your watch have email? This often asked question, sometimes in jest, is welcome with ref. 5115 aficionados. Many early examples only say the word 'EMAIL' under 6'clock ('enamel' in French). Later examples feature the words 'CADRAN SWISS EMAIL' on ref. 5115s. ('dial Swiss enamel')
The screw-back, water resistant case is equally stunning. Made at a respectable 35.5 diameter, the bezel features the clous de Paris, or hobnail finish. A close look reveals two rows of pyramid shaped decorations. Similar to the finish seen on ref. 3919 bezels, this is as Patek Philippe as it gets and is a welcome compliment to the dial of this important reference.
Sold
Watch specifications
Reference Number: 5115J
Production Year: 2000
Original Date of Sale: June 1, 2001
Size: 35.5 mm
Material: 18K yellow gold
Dial Color: Cream colored enamel, black roman numerals
Watch Movement: 215 PS
Accompanied By: Extract from the Archives
CSKU: OC1016