PATEK PHILIPPE WHITE GOLD GONDOLO WITH SALMON DIAL REF. 5124G
PATEK PHILIPPE WHITE GOLD GONDOLO WITH SALMON DIAL REF. 5124G
Patek Philippe 18K rectangular white gold ref. 5124G, made and sold 2010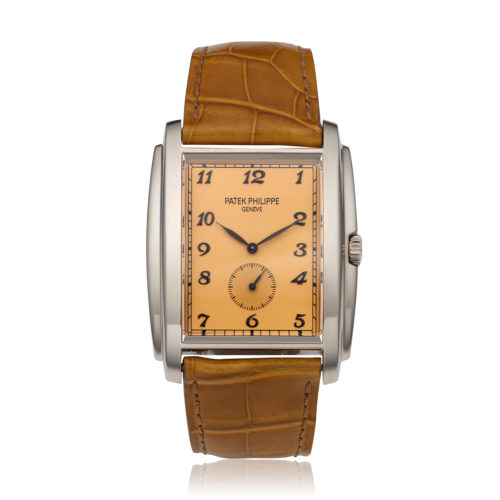 Watches & Accessories
The ref. 5124G is the type of watch that should be on more collectors' radar. Start by taking a look at the sapphire back to see the caliber 25-21 REC PS. This caliber was first released with the the ref. 5098 and later the ref. 5124. It was Patek Philippe's new, non-round shaped caliber since the famous caliber 9-90 and takes many historical design cues from the caliber 9-90 as well as from Gondolo pocket watch calibers of the early 20th century.
According to Patek Philippe "The caliber 25-21 REC PS (REC stands for rectangular, PS for small seconds), the manufacture's first simple form movement since its famous 1930s and 1940s predecessors, including the 9-90 caliber that was introduced in 1934 and built for more than thirty years. In decisive details, its architecture follows the formal design that accounted for the beauty of the Chronometro Gondolo movements of the early 20th century. This applies to the elegant, S-shaped minute-wheel bridge and the slender escape-wheel and fourth-wheel bridges that afford a generous glimpse of the rest of the movement. Patek Philippe's proprietary Gyromax balance is one of the contemporary features of the watch."
The short lived run of the ref. 5124 offers an interesting buying opportunity to one of the most attractive rectangular watches ever made with a historically important movement at an equally attractive price point. This ready to wear example from 2010 has its original Certificate of Origin and box.
Sold
Watch specifications
Reference Number: 5124G
Production Year: 2010
Original Date of Sale: 2010
Size: 43 x 33 mm
Material: 18K white gold
Dial Color: Rose with applied white gold Breguet numerals
Watch Movement: Caliber 25-21 REC PS
Accompanied By: Original box and Certificate of Origin
CSKU: 1925