PATEK PHILIPPE PERPETUAL CALENDAR REF. 3941J
PATEK PHILIPPE PERPETUAL CALENDAR REF. 3941J
Patek Philippe 18K yellow gold ref. 3941J with sapphire back, made and sold in 1988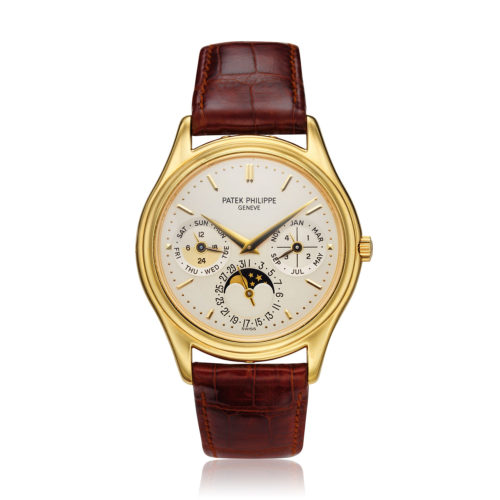 Watches & Accessories
When the ref. 3940 was launched in 1985, the market was shaken by this innovative new look that was very different in appearance to the earlier Patek Philippe perpetual calendars. Bold and elegant, the first series ref. 3940 featured sunken registers, as well as a signature font that was much more 'vintage' in appearance than later series.
It was not until 1990 that the ref. 3941J sapphire back was discontinued and all ref. 3940s in yellow gold, white gold and rose gold were supplied with two backs until the main production of the reference ended in 2007.
For a detailed study of this reference, please see here a post on Collectability.
Sold
Watch specifications
Reference Number: 3941J
Production Year: 1988
Original Date of Sale: June 9, 1988
Size: 36 mm
Material: 18K yellow gold
Dial Color: Silvered
Watch Movement: 240Q
Accompanied By: Extract from the Archive
CSKU: 1524