A MASSIVE PATEK PHILIPPE SILVER UP-DOWN INDICATOR OBSERVATORY CHRONOMETER
A MASSIVE PATEK PHILIPPE SILVER UP-DOWN INDICATOR OBSERVATORY CHRONOMETER
Patek Philippe silver EXTRA quality chronometer with up-down indicator and Guillaume balance, made in 1911, sold 1915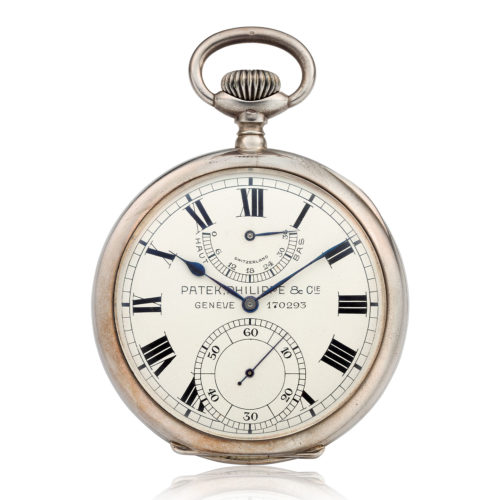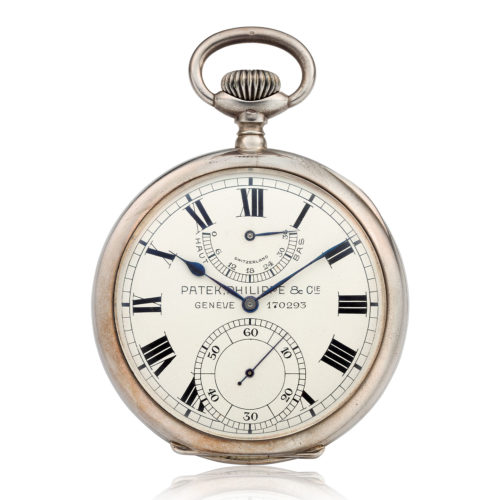 Watches and Accessories
During the first half of the 20th century, the Geneva chronometer Observatory trials were considered the ultimate expression of fine watchmaking globally. Companies would spend huge amounts of time and resources to present watches for timing competitions to show who was literally the greatest producer of accurate timepieces that could perform under the harshest of conditions. Tested in numerous positions and extreme temperatures, the rigorous testing allowed the world to see who was the best-of-the-best. It was akin to Formula One car racing today. Rather than superstar drivers, the personal expression of brilliance of hand and machine was most clearly seen with the regleurs, or regulators, of the era. The escapement regulators of these chronometers were considered the superstars of the industry and the watch companies went to great lengths to recruit and retain this talent. Names such Modoux, Zibach and Batifolier are now celebrated as the horological gods that pushed timekeeping to the highest level of accuracy. It is no surprise that Patek Philippe was the King of the Geneva Observatory Trials.
The movement within this chronometer won Third Prize in the 1912 Geneva trials before being cased by Patek Philippe for sale to an end consumer. Henry Graves, Jr. and James Ward Packard were avid collectors of such observatory timekeepers. Another huge client was the American government. A trio of these chronometers were sold in 2017 at auction which were sold to the US Government in 1915 for use on US Army Airship Los Angeles (ZR-3). Airships, think zeppelins, typically had a trio of chronometers onboard as a redundancy and checks and balances system. It is likely the presently offered chronometer was also intended for military purposes.
The Guillaume balance was invented by Charles-Edouard Guillaume who won the Nobel Prize for Physics in 1920. Made of a steel and nickel alloy with anti-magnetic properties, this balance is celebrated as one of the most beautiful and accurate of the era. This watch is accompanied by a register from the Chronometer Service of the Geneva Observatory. It reveals that this chronometer received Third Prize honors in the 1912 competition with a total of 761 points. The regulator for this chronometer was Mr. C. Batifolier, one of the highest paid Patek Philippe watchmakers of the era.
Remarkably preserved in its massive open face silver bassine case, this chronometer features a superlative example of the highest quality movement of the era. Every angle, every part, every screw, was hand finished to the highest standards known. The technical prowess is in full view with a Guillaume escapement featuring a diamond end-stone, gold poising screws, and blue steel overcoil balance. The movement also features a rose gold screwed chaton that elegantly sits within a hand finished bridge. No expense was spared in the production of this watch and it is a living testament to the brilliance of early 20th century high-end watchmaking.
$ 45,000.00
Pocket watch specifications
Production Year: 1911
Original Date of Sale: January 30, 1915
Size: 60.8 mm
Material: Silver
Dial Color: Silvered dial with hand engraved numerals, subsidiary seconds and up-down indicator
Watch Movement: 21 ligne (EXTRA noted on movement and archive)
Accompanied By: Extract from the Archives and copy of the Geneva Observatory timing certificate
CSKU: 1320